With space in the urban environment coming at a premium, it is becoming essential to utilise what space we have left. It has been recognised that rooftop space is a large forgotten development space with massive potential.
At SELSports we believe a sports facility can be the ideal use for flat rooftop spaces. The construction of a sports facility on a roof does present significant logistical difficulties. SELSports have recognised the challenges of rooftop sports installations, and have developed a bank of knowledge which we have applied to create the perfect rooftop sports systems.
We pride ourselves in attention to detail.
Rooftop MUGA - A Surface of Your Choice
Our sports surfaces are selected based on quality, robustness and permeability. All our surfaces are stringently tested in compliance with various sports regulations.
Fire Resistant Synthetic Grass Pitch System
SELSports offer a synthetic grass pitch system that meets the requirements of external fire exposure to roofs, BS 476-3:2004 and CEN/TS1187:2012 – Test 4, including EN 13501-5 T4 classification. This system has been independently tested and verified by the independent BRE Group, UKAS approved laboratory.
Synthetic Grass
There is an extensive range of synthetic grass available, each type suited to a specific sport. We use our knowledge and expertise to ensure the client gets the best possible surface for the intended use whether it's a rooftop 3G, rooftop MUGA, rooftop playground or a communal social zone.
Polymeric Rubber
Compliant with IAAF/Sport England standards, can be used for a rooftop running track, rooftop MUGA, rooftop playground or as a safety surfacing.




We have an impressive portfolio of successful rooftop MUGA projects, exhibiting a range of sports surfaces, each surface is selected based on the Clients needs and requirements.
A rooftop running track?!? Using our lightweight rooftop system, we are able to design, supply and install professional quality rooftop running tracks or running lanes to suit any rooftop layout with exceptional drainage performance .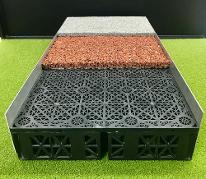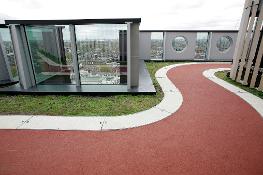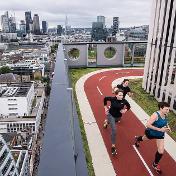 Specialist Rooftop Sports Drainage
An integral part of our rooftop systems is our lightweight drainage cells, delivering several key benefits:


Modular Interlocking Plastic Structure
Our lightweight modular drainage cells are ideally suited to rooftops with limited access. They can be distributed by hand therefore requiring minimal plant for installation. They interlock to create a strong and sturdy, lightweight raft foundation for rooftop sports facilities.



Rainwater Harvesting and Attenuation Within a Shallow Pitch Construction
Our drainage cells have a 95% void ratio, allowing rainwater to be stored at source. Up to 80 litres per m² within a very shallow pitch construction. Stored water has a number of benefits e.g. attenuation at source, a cooling effect on synthetic turf in MUGA or 3G pitches and recycled rainwater can be used for irrigation or amenity.

A Free Draining Surface
Our drainage cells have a 52% open surface area, allowing water to rapidlydrain from the playing surface completely unimpeded, preventing standing water.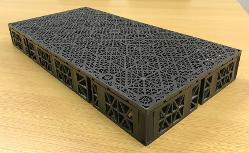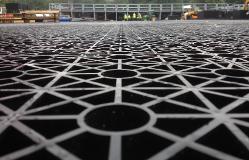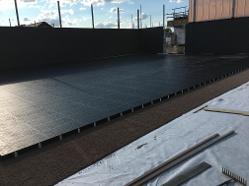 SELSports offer a turnkey approach to the professional design, supply and quality installation of the full rooftop sports package. We have an extensive range of in-house fabricated ancillary components, specifically designed to complement our rooftopdrainage system.
Rain Water Outlet Access Chambers
SELSports have a range of bespoke rainwater outlet access chambers with recessed lids. The access chamber is engineered to integrate within the system, to discretely cover and protect rainwater outlets, allowing quick and easy access for routine maintenance.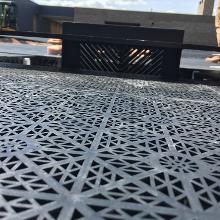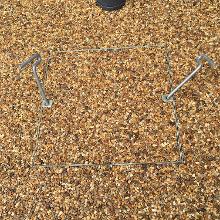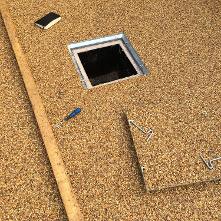 Steel Edge Details
SELSports have developed a lightweight, prefabricated edge protection system for rooftop sports facilities. A stainless steel retaining edge detail is used for sports facilities with a polymeric surface. A galvanised mild steel retaining edge detail is used for synthetic turf pitches. The edge detail delivers an extremely neat and clean cut finish to the rooftop system.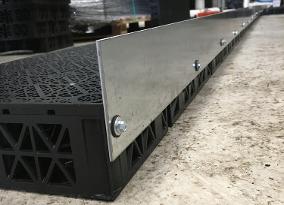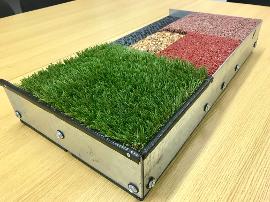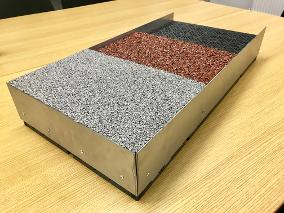 SELSports Division, Canal House, Bonsall Street, Blackburn, BB2 4DD.
T: 01254 589987 E: info@selenvironmental.com