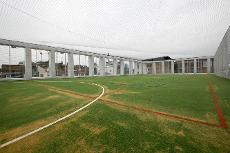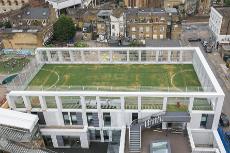 Synthetic Grass Rooftop Facilities
SELSports can design and build 3G synthetic grass surfaces for rooftops using the most up-to-date advances in artificial grass technology. We also offer sand-based and long-pile synthetic grass surfaces.
SELSports have successfully delivered many rooftop synthetic grass installations and become very experienced in overcoming the access limitations to these remote spaces. Synthetic grass rolls and shockpad can be cut into more manageable sizes. Infill materials (sand and rubber crumb) can be supplied in smaller sized bags. All of these contribute to reduce the requirement for heavy plant on a roof installation.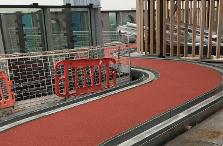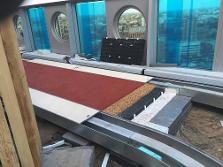 Polymeric Rooftop Facilities.
Polymeric surfaces have long been recognised and recommended by Sport England. SELSports can design and build a polymeric surface to suit your rooftop layout. We use a full EPDM system accredited to IAAF standards and is ideal for use on rooftoprunning lanes.
This surface allows for wet poured rubber to be hand laid, which prevents any possibility of the EPDM granules escaping to the surrounding areas and with the 13mm deep surface being a full EPDM there is less possibility of the surface fading or blackening with high use as the full depth of the polymeric is a consistent colour.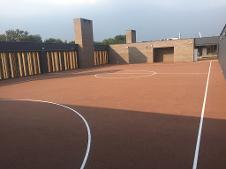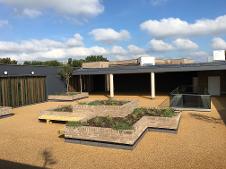 Resin Bound Gravel (RBG) Rooftop Facilities.
Following extensive research and development SELSports can provide a resin bound gravel surface that has good slip resistance and provides a permeable surface. We can offer a range of colours and aggregate types to suit any end use from playgrounds to communal social zones.
RBG is a great alternative to macadam, raw materials can be transported to the rooftop individually and mixed in-situ. Whereas due to the logistically challenging location and difficulty in maintaining its working temperature makes macadam a very expensive option.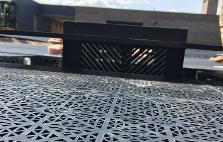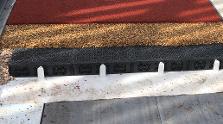 A roof is a large rainwater catchment area and using the SELSports sub-base replacement system will give you a highly efficient sub-surface drainage layer that will keep your rooftop sports surface free from standing water. The SELSports sub-base replacement system is ideal for rooftop installation and provides the flexibility required to work in harmony with the structure, roof drainage and mechanical & electrical of a building.
Using the SELSports sub-base replacement system makes it possible to trap and store water without using pumps, extra space, separate tanks or energy. Also storing rainwater on a roof could form part of a drainage strategy for the development especially if space is limited at ground level for an underground attenuation. This stored water could be used for irrigation, synthetic turf cooling or recycled in the building below for toilet flushing.
SELSports, sports pitch drainage, resin bound gravel, polymeric running track, synthetic grass, rooftop muga, rooftop sports